Banff Road Trip
Last year around this time the four of us were sitting around a bonfire and somehow an idea of a "sibling" trip came up. We threw ideas around (CA was one which is funny because Blake is moving there this fall), and landed on Banff. None of us are by any means huge hikers or experienced mountain explorers, we just wanted a fun trip in a bucket list destination. This blog is to document some of our pictures and to also give some tips to those who are planning a trip to Banff!
We chose the end of May because of the way our schedules all lined up, not taking into consideration that a lot of the lakes and trails in Banff National Park actually don't thaw or open until early to mid June. Leading up to the trip, I was panicking about this because one of the main reasons you go to Banff is to see the clear blue water, right? I even started researching last minute trips to other locations because I did not want to waste our time. When we got there, yes Lake Louise was still half frozen and yes a lot of the trails and roads were still closed. However, after talking to some of the locals about how crazy busy it gets in June, July and August, we all agreed that it was worth the sacrifice of some of the scenery for the lack of tourists.
Day 1
Roadtrippin'
Driving, driving and more driving. It was about a 20 hour drive, we left on Sunday morning, stopped in Minot, ND to see some friends and kept on going through the night to get us to Calgary around 9am Monday. We couldn't check into our Airbnb until 4pm, so we took our time driving around Calgary, seeing the Calgary Flames arena, and then we stumbled on the Olympic Park which was actually pretty cool! Highlight for me: they had the REAL bobsled used in the movie Cool Runnings! You better believe I was chanting "Feel the rhythm, feel the rhyme" the rest of the day. They also have a tour where you can ride the bob sled down the olympic run, mountain bike and zipline.
Canmore
We stayed at an Airbnb in Canmore, which is about 20 minutes away from Banff. It was the cutest town, I wish I would have taken more pictures. But picture the most picturesque, surrounded by mountains on all sides town with a downtown filled with boutique stores and restaurants. That's Canmore. I loved Canmore because it had the quaintness of Banff, but it wasn't quite as touristy. We really wanted to keep this trip affordable, which is why booking an Airbnb with a kitchen was so important to us (it also had a hot pool and hot tub which is a requirement when traveling with the Lizotte boys). There was a Safeway right in town with everything you need for meals and hiking snack supplies. If you want to save money, making your own food is always a fool proof way to make sure you have money in your budget for fun experiences, especially if everyone is pitching in for each meal.
But, you know us, Brett and I love breweries, so we had to stop at a couple! First one was The Grizzly Paw Pub & Brewing Company. The day we got in was pretty chilly, but they have a huge patio with a fire place and heaters at each table which was awesome! Their food was good, and they have awesome happy hour specials throughout the week. However, we ended up going to Half Hitch Brewing twice because of how much we enjoyed it! Located in the Canmore hotel, their food was incredible (please please please try to pickle chips, oh my goodness), and the vibe inside was great! But their patio was the winner. String lights and cute mural paired with good beer and good food are all ways winners in my book. I would highly recommend, if you're staying in Canmore, take a walk around downtown in the evening and just explore. There's an ice cream shop inside of a school bus (cash only, just a heads up), cute patios everywhere, and a board walk path that shows off the mountains and sunset in the middle of town.
Day 2
Lake Louise
If I've heard one piece of advice more than any other for Banff it's get to where you're going early, especially Lake Louise! So, we woke up, got our park passes (I think we paid like $10 a day for parking?), and got to Lake Louise around 7:30 am which was perfect. When we got there, a few people milled around the Lake Shore, but not many at all. In my opinion, places like this are so much more enjoyable when you're not jostling other people to get a picture of "nature" Despite still being half frozen, Lake Louise lived up to all of the hype! It was breathtaking! The mountains towering over the lake made you feel small and insignificant in the best way. I had heard that the Beehive hike is a must after stopping for tea at the Teahouse. That was the biggest let down of the trip (besides not seeing a moose), that those were not yet opened. However, we took the trail that went around the lower part of the lake and it was beautiful! Seeing glimpses of the clear water in patches of open water and through the ice, I can't imagine how breathtaking it is at it's peak in the summertime! By the time we made our way back, the tour buses had arrived and it was a zoo filled with selfie sticks and people from all over the world. If you take one thing from this blog, get to your destination early! You won't regret it!
Emerald Lake
After Lake Louise, we drove over to Emerald Lake. One thing we realized is that everything is very spread out (when you think about it, duh), so we spent a good amount driving! Good news, literally the prettiest scenery ever, and they say that driving on the Bow Valley Parkway at twilight will reward you with the most wild life views. We didn't see any wild life up close, but we did see a few herds of elk, a black bear crossing the river, two giant wolves and the funniest looking prairie dogs. Oh, and chipmunks are everywhere and not shy! Back to Emerald Lake. Again, another place that would have no parking if you don't get there early. When you arrive there's a cute lodge shop that has all the touristy things and you can also rent kayaks or canoes by the hour (in hindsight kind of wish we would have done this, but it's also $75 an hour, so a little spendy). Make sure you hike up the hill past the cabins because that's where you'll realize why they call it Emerald Lake. The water is truly insane and so beautiful! But again, lots of people with selfie sticks on the main path and we were getting hangry, so back to the car for pb & j's we went. After lunch, we decided we didn't want to hike the entire lake, but we did follow signs to "peaceful pond" and if you're looking for a quiet trail with no one around, this is it. It leads to a really pretty pond where you could imagine a moose coming to get a drink at any second (trust me, I was praying for it). Blake was the adventurous one and went for a very cold swim because you're only in Banff once, haha.
On our way out of Emerald Lake, we stopped at an overlook called the Natural Bridge, which was way cooler than we were expecting. It was literally a natural stone bridge going across the canon over a waterfall. Lot's of people that time, but I'm glad we stopped.
The 20 hour road trip had all of us pretty beat and we knew we were going on a long hike the next day, so we went back to our Airbnb and relaxed the rest of the night. Originally though we had planned on going to Peyto Lake and hiking the Tunnel Mountain Summit in Banff. We ended up driving the road of Tunnel Mountain and it really was pretty! Gives you great views of the town of Banff and the surrounding mountains. There's a few huge Chateau's built right into the side of the mountains that are incredible to look at. We even ran into a wedding happening in one of the meadows which made me wish we could redo our wedding ;).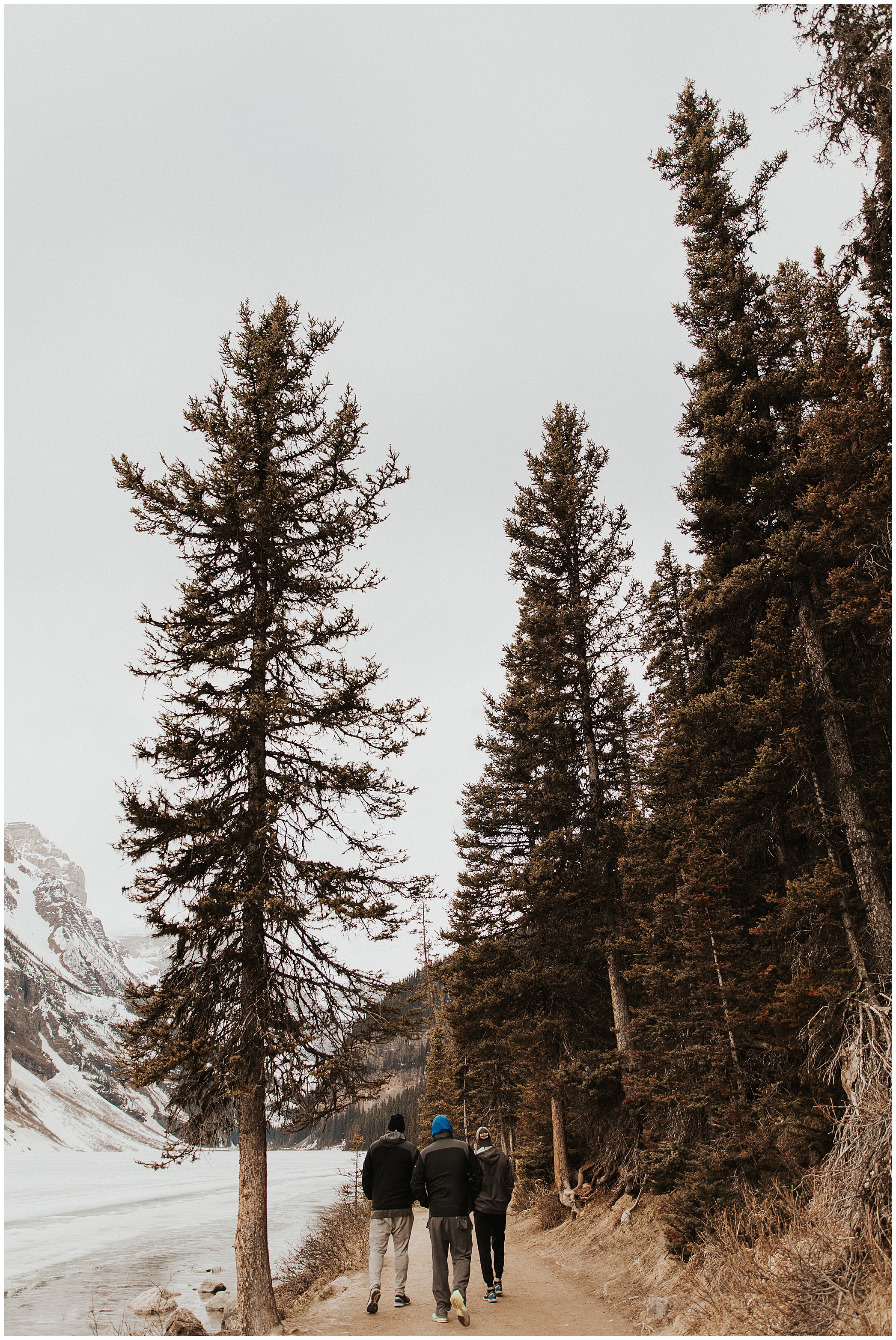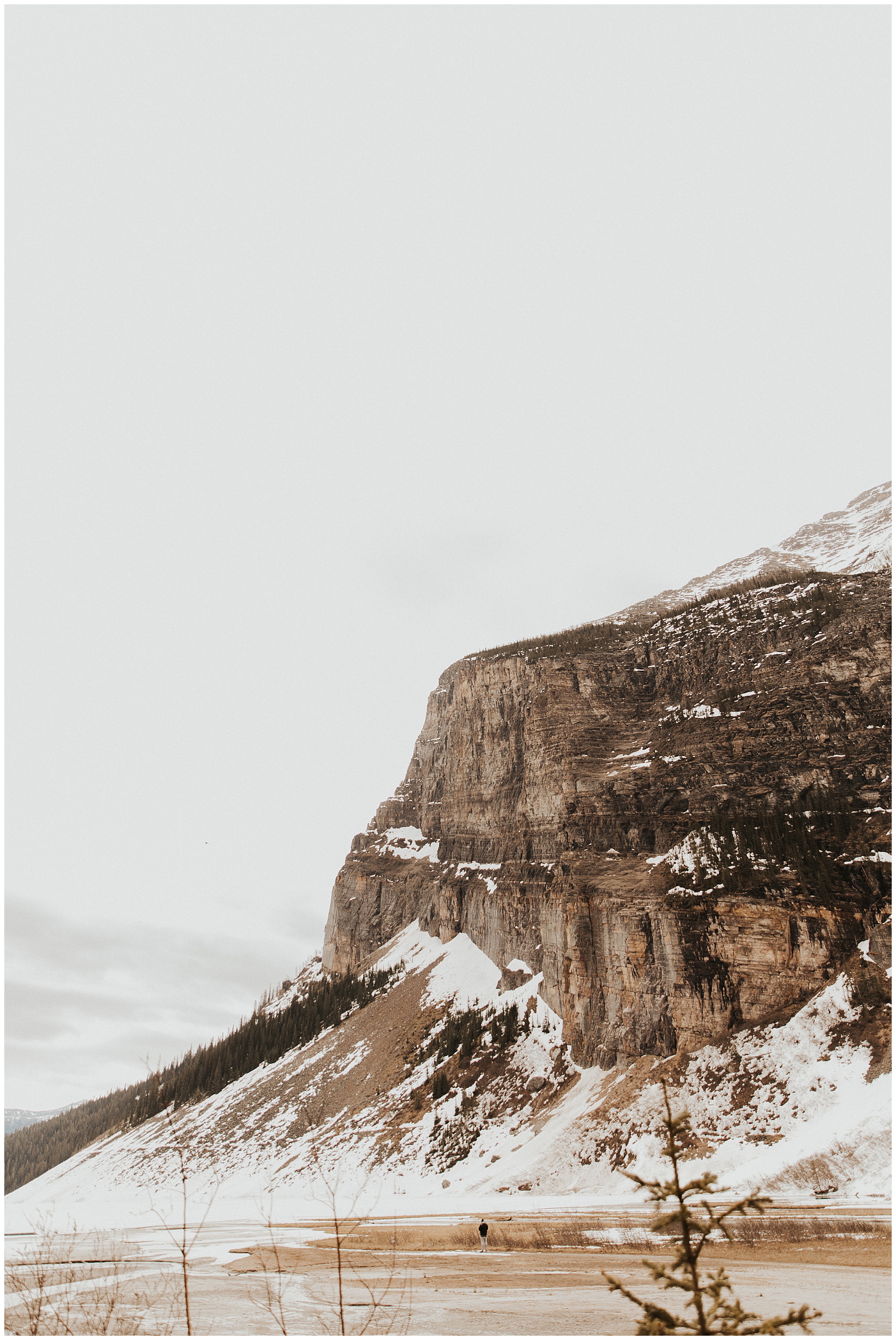 Day 3
Johnston Canyon/Ink Pots Trail
Originally, we had planned to hike Harvey Pass which is a 7 hour hike up to a natural amphitheater, but sadly people were skiing on the trail the week before and we did not bring snow gear, haha. So, if you've hiked this, please send me your pictures so I can live vicariously through you! ;).
Instead, we woke up early and headed to Johnston Canyon which ended up being our favorite place of the trip. The Upper and Lower falls are super easy hikes (most of it is a paved walkway), but insane views! We kept saying we felt like we were in Lord of the Rings with the towering trees and winding river. Around almost every corner was another waterfall, and as always, the mountains surrounding the entire area were unreal.
By far, the favorite part of the trip was when we decided to take the Ink Pot Trail (6 mile trail). It brings you up a wooded trail that is mostly uphill the entire way, then you start going downhill, only to have your hopes crushed by another giant incline haha. But, if you're up for the workout, it is undeniably worth it! The views on the trail stopped us in our tracks multiple times (ok, we were also catching our breath), and it was a difficult enough trail that we didn't run into hardly anyone. Once you get to the top, it opens up into the sprawling meadow surrounded by mountains and speckled with these spring fed "ink pots" that are pools filled with turquoise blue water. I could have stayed there all day! But we forgot our lunch in the car and by end of the hike we were definitely hangry. We decided to take a different trail back which turned into us getting turned around and ultimately lost for a few minutes haha. Long story short, don't take the connecting Moose Meadow's trail if you're trying to get back to Johnston Canyon ;).
We ended up being gone for around 6 hours at Johnston Canyon. By then we were beat, so we spend the evening exploring Canmore and taking advantage of the hot tub for our sore muscles.
Day 4
Downtown Banff
We woke up this day and just needed a little breather. So, we spend the day visiting Lake Moraine and Lake Minnewanka which were both beautiful! I think at this point, we were all just trying to soak it all in, so I don't have many pictures from this day, but definitely pack a picnic and visit one of these lakes for a chill day! We then went to downtown Banff and just explored the town. Every other store is an outdoor gear store or cute restaurant with a patio (I like patios, ok?) and it definitely has the touristy vibe, but it's also fun to be a tourist for a day! Make sure to check out the coffee shop Little Wild and get a maple latte! I love walking into coffee shops where baristas actually know what they're doing and what makes their product good. I'm glad we didn't stay right in Banff because I would have spent all of my money on coffee here every day! Most of the local restaurants have really good deals for late night happy hour! But we wanted to save money, so we had happy hour at our own place which worked out just fine :).
Day 5
White Water Rafting
This was a controversial decision for me. I am all for adventures but I am not an adrenaline junky like the boys are, so when they decided they wanted to do this, I have to admit that I was not all for it. However, I now recommend it to every single person that tells me they're going to Banff! We woke up on Friday and it was so crappy outside. Every other morning the sun had been shining and this morning it was pouring rain. Great weather to be on the water right? Actually, it ended up being the best day to be on the water because it turns out you get absolutely soaked basically as soon as you get in the boat if you're sitting in the front, which we were. We went with Wild Water Adventures down the Kicking Horse River. It was almost a two hour drive to get there, but they also have shuttles from Banff and Lake Louise. Also, after researching, we found that Kicking Horse River is THE place to white water raft in that area. We (when I say we I mean the boys) decided that if we were going to do it, we would be doing the hardest one possible. So we did and honestly it was a blast. Wild Water Adventures did an amazing job at outfitting us with wetsuits and things to stay warm (when they ask if you want gloves, take them or you will regret it), and educating us on safety and what to do if we fell out of the raft. Not going to lie, there were a few times Blake and I were in the very front and we disappeared under a rapid and I wasn't sure if I was going to come back up haha. But our guide seriously made the entire trip so fun and enjoyable and in the end I was really glad we went with the one we chose! Even if you don't want the adrenaline rush and want an easier route, just being on the river is awesome. It's in a canyon surrounded by mountains and the water is crystal clear. In our opinions, it's a must while you're in Banff!
Day 6
We headed home the next morning and went through Montana instead of North Dakota, because one of our party's passports expired that day (I'm looking at you, husband ;)) and my enneagram 6 was in full on panic that we wouldn't make it to the border in time haha. We made it in plenty of time and even chatted with the border patrol for a bit, poor guys probably hadn't seen another human in days (it was literally in the middle of nowhere)! If you want more of a scenic drive, definitely go the Montana way! If you have a few extra days, stop in Glacier too! This trip was definitely one of my favorite trips ever. Yes because of the insane location and incredible things we saw, but also because the four of us got to spend such great time together. We really soaked in the moments and I can't wait for the next sibling trip! If you've made it this far in the blog, nice job ;). Feel free to reach out to me for more details on our trip or questions you have about road tripping to Banff!